Welcome to the website of the Australian Embassy in Brussels. Our role is to promote Australia's relationships with Belgium, Luxembourg, the European Union, and NATO. The Embassy is open from 08.30am to 5:00pm weekdays, except public holidays.
Agreement on the Australia-European Union Free Trade Agreement Scoping Exercise
Australia and the European Union (EU) have successfully concluded a joint scoping exercise on a future free trade agreement (FTA) between the two economies. This is a key step toward the launch of negotiations. Both sides will now work through their domestic processes to secure approval of a negotiating mandate. An Australia-EU FTA has the potential to drive economic growth by opening up new export opportunities, enhancing investment flows, and removing trade barriers for businesses. Collectively the EU is Australia's second-largest trading partner and largest source of foreign investment.
Suspected chemical weapons attack in Syria
The Australian Government condemns in the strongest possible terms the chemical weapons attack against civilians, including children, at Khan Sheikhoun in Idlib Province, Syria on 4 April 2017.
Australia hosts the World's Best Restaurants Awards
Australia will host The World's 50 Best Restaurants Awards in Melbourne on 5 April. Hosting this prestigious event, which has brought the world's best chefs down under, is a coup for Australia and shines the spotlight on our food and wine industry.
Registration opens for centenary of the Battle of Polygon Wood Dawn Service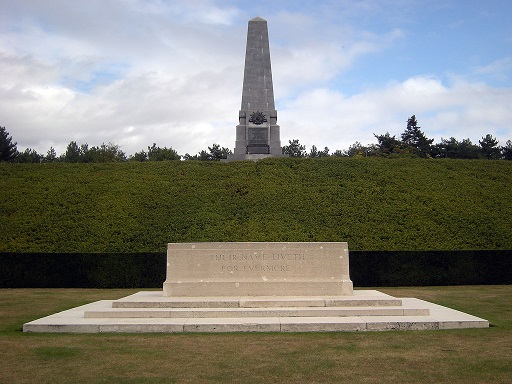 Veterans' Affairs Minister Dan Tehan has announced Australians can now register to attend a Dawn Service to mark the 100th anniversary of the Battle of Polygon Wood: the first major battle for the Australian 5th Division in Belgium which resulted in 5,770 casualties The service is being held on 26 September at Buttes New British Cemetery (pictured) in Zonnebeke last resting place of more than 500 Australians. To register to attend or find out more click here
Trade Minister gives speech on EU-Australia relationship
Trade, Tourism and Investment Minister, Steven Ciobo MP gave a speech on the EU-Australia relationship on 21 March at an event held at Parliament House in Canberra. The event celebrated the 60th anniversary of the Treaty of Rome and was hosted by the Embassy of Italy in Canberra in partnership with the Australia-European Union Parliamentary Friendship Group. The Minister's speech can be viewed here.
Menin Gate Lions returned to Ypres
The Menin Gate Lions have temporarily returned to the Menin Gate in Ypres/Ieper as part of 100th anniversary WW1 commemorations. They were unveiled during a special Last Post ceremony on Monday 24th April and will return to the Australian War Memorial in Canberra after Armistice Day on 11 November.
Anzac Day on the Western Front, Belgium – Tuesday, 25 April 2017
The Australian Embassy in conjunction with the New Zealand Embassy and the Belgian municipalities of Zonnebeke, Ypres/Ieper and Comines-Warneton again organised an extensive program of commemorations on Anzac Day in West Flanders.
Australia's trade in services records strong growth
Australia's trade in services recorded strong growth in 2015-16, increasing 7.7 per cent to $146 billion. Trade In Services Australia 2015-16 shows the EU as a bloc remains our largest two-way services trade partner.
Bali Process Government and Business Forum on Human Trafficking
The Forum is a business-government partnership to combat human trafficking, modern slavery, forced labour and other exploitation.
Countering violent extremism through Australian aid
Foreign Minister Bishop has launched a new policy framework, 'Development Approaches to Countering Violent Extremism', to guide the inclusion of countering violent extremism activities across Australia's aid program. The framework will ensure development assistance considers countering violent extremism in targeted and sensitive ways, including across education, civil society, governance, livelihoods, justice and the rule of law.
Australia's trade by State and Territory
In 2015-16 most States and Territories export volumes increased, according to DFAT's newly released Australia's trade by State and Territory 2015-16.
Ambassador for Women and Girls
Dr Sharman Stone has been announced as Australia's third Ambassador for Women and Girls.
Australia's Candidacy to the Human Rights Council
Foreign Minister, the Hon Julie Bishop, and Attorney-General Senator, the Hon George Brandis QC, have officially launched Australia's candidacy for membership of the United Nations Human Rights Council for the 2018-20 term. This is the first time Australia has sought membership of the Human Rights Council. Our inaugural candidacy embodies our commitment to the aims and purposes of the Universal Declaration of Human Rights and to the ongoing promotion and protection of human rights, both here in Australia and around the world.