Welcome to the website of the Australian Embassy in Brussels. Our role is to promote Australia's relationships with Belgium, Luxembourg, the European Union, and NATO. The Embassy is open from 08.30am to 5:00pm weekdays, except public holidays.
@AusEmbEU
---
Trade Minister Robb Signs historic Trans Pacific Trade Pact (TPP) in New Zealand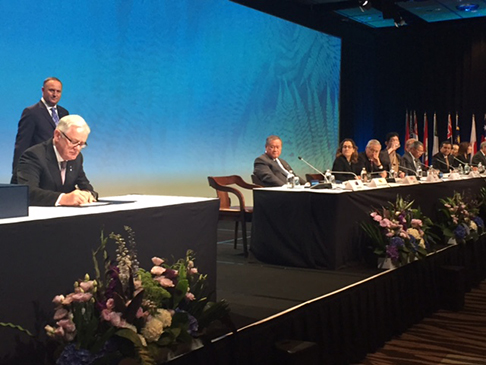 The historic Trans Pacific Partnership Agreement (TPP) – which will see the elimination of 98 per cent of tariffs among 12 countries – was formally signed on 4 February in New Zealand by the Minister for Trade and Investment Andrew Robb (pictured). The TPP is the world's most significant trade and investment agreement finalised in more than two decades with member countries accounting for around 40 per cent of global GDP.. Read more
A$25 million increase in response to Syria and Iraq crises
Foreign Minister Julie Bishop has announced an additional A$25 million in humanitarian assistance in response to the Syria and Iraq crises ahead of the Syria Donors Conference in London. This brings Australia's total humanitarian response to the Syria crisis to $213.2 million since the conflict began in 2011, and for Iraq to A$45 million since 2014. Read more
Another bumper year for Australian international education
Australia's international education sector is thriving with preliminary data released on 3rd February showing export income from education services was A$19.65 billion in 2015 – an increase of 11.5 per cent since 2014 – according to the Australian Bureau of Statistics (ABS) data. Read more
Robb to promote Australian trade and investment at World Economic Forum
Minister for Trade and Investment Andrew Robb will this week participate in the annual meeting of the World Economic Forum in Davos, Switzerland. During his visit, Mr Robb will meet with EU Commissioner for Trade Dr Cecilia Malmstrom to discuss the prospect of an ambitious bilateral deal. Read more
Joint statement on whaling and safety at sea
The Governments of Australia, the Netherlands, New Zealand and the United States jointly condemn any actions at sea that may cause injury, loss of human life or damage to property or the marine environment during Southern Ocean whaling operations in 2016. Read more
Australia welcomes record one million visitors from China
Australia's tourism industry is continuing its record smashing trend with annual Chinese visitor numbers hitting one million for the first time in data released by the ABS on 12 January. Read more
MIKTA Foreign Ministers' joint statement on the North Korean nuclear test
We, the Foreign Ministers of MIKTA, deplore North Korea's fourth nuclear test, which constitutes a clear threat to international peace and security. Read more
North Korea fourth nuclear test
Australia condemns in the strongest possible terms the provocative and dangerous behaviour of the North Korean regime, which claims to have detonated a nuclear bomb on 6 January. Read more
A$1.1 billion National Innovation and Science Agenda
Prime Minister Malcolm Turnbull and Industry, Innovation and Science Minister Christopher Pyne on 7 December announced Australia's National Innovation and Science Agenda. The Government will invest A$1.1 billion to drive innovation and entrepreneurship, reward risk taking, support international collaboration and promote science, maths and computing in schools by focusing on four priority areas:
Culture and capital, to help businesses embrace risk and incentivise early stage investment in startups;
Collaboration, to increase the level of engagement between businesses, universities and the research sector to commercialise ideas and solve problems;
Talent and skills, to train Australian students for the jobs of the future and attract the world's most innovative talent to Australia; and
Government as an exemplar, to lead by example in the way Government invests in and uses technology and data to deliver better quality services.
The Agenda is part of the Government's commitment to establishing Australia as a leading innovation system. Read more
European Union FTA talks progress
Prime Minister Malcolm Turnbull (R) is pictured with European Commission President Jean-Claude Juncker (L) and European Council President Donald Tusk (centre) after their meeting. Photo credit: European Union
Trade and Investment Minister Andrew Robb says the commitment between Australia and the European Union (EU) to work towards the negotiation of a Free Trade Agreement (FTA) is a major step forward in unlocking exciting new trade and investment opportunities in Europe. In a joint statement released on 15 November Prime Minister Malcolm Turnbull, President of the European Council Donald Tusk and President of the European Commission Jean-Claude Juncker agreed to commence work aimed at launching negotiations, adding that an FTA 'will support sustainable growth and investment, open up new commercial opportunities and promote innovation and employment in Australia and the EU.' Read more
Australia to lead Green Climate Fund Board
Australia has been elected unanimously to lead the Green Climate Fund in 2016. The Green Climate Fund, which commenced in August 2012, is the world's leading fund for addressing climate change in developing countries including those in our region. Read more
Australia's Candidacy to the Human Rights Council
Foreign Minister, the Hon Julie Bishop, and Attorney-General Senator, the Hon George Brandis QC, on 19 October officially launched Australia's candidacy for membership of the United Nations Human Rights Council for the 2018-20 term. This is the first time Australia has sought membership of the Human Rights Council. Our inaugural candidacy embodies our commitment to the aims and purposes of the Universal Declaration of Human Rights and to the ongoing promotion and protection of human rights, both here in Australia and around the world. Read more
United Nations Security Council & Human Rights Council
Foreign Minister Julie Bishop has announced Australia will be a candidate for the United Nations Security Council in 2029-30. The need for strong international cooperation to tackle global security challenges becomes more pressing each year. Australia seeks this term determined that elected members can and should make a difference in increasing the Security Council's effectiveness in maintaining international peace and security. Read more
The Syrian and Iraqi Humanitarian Crisis
Australia will resettle an additional 12,000 refugees who are fleeing the conflict in Syria and Iraq. Our focus will be on those most in need – the women, children and families of persecuted minorities who have sought refuge from the conflict in Jordan, Lebanon and Turkey. Read more

| | | | | | | |
| --- | --- | --- | --- | --- | --- | --- |
| Travel advice, travel registration and Australian passport applications and renewals. | | | | A representation of Australia, symbolising our growth and expansion | | Using our international diplomatic assets to advance Australia's prosperity and global prosperity. |