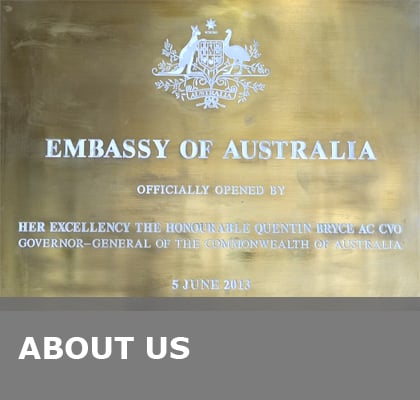 Trade and investment

Australia-EU FTA negotiations

Australia and the EU launched negotiations for a bilateral Free Trade Agreement (FTA) in June 2018. The launch was announced during the visit to Australia by EU Trade Commissioner Malmström. Both sides have made public reference to their commitment to achieving a comprehensive and ambitious outcome. Such an agreement has the potential to generate significant commercial benefits. It would also reflect the shared interest of Australia and the EU in protecting and promoting an effective global rules-based order. Four negotiating rounds have been held to date, in July and December 2018 and March and June 2019. Further rounds are planned in October and December 2019. Engage with the Australian FTA negotiating team here: www.dfat.gov.au

Science, research and innovation

Australia and the European Commission held their 15th Joint Science and Technology Cooperation Committee Meeting on 23 July in Canberra. The meeting was co-chaired by Director General of the European Commission's DG Research and Innovation, Jean-Eric Paquet, and by Australia's a/g Deputy Secretary in the Department of Industry, Innovation and Science.

The meeting presented an opportunity for the European Commission and Australia to discuss the critical role that science and innovation can play in addressing the rapidly changing technological environment together with common global social, environmental and economic challenges. Both countries discussed the current areas of collaboration as well as areas of potential future collaboration. A Communique will be available shortly.

Foreign and Security Policy

Australia-EU Framework Agreement
The Framework Agreement between the European Union and Australia is a vehicle for enhancing cooperation across the foreign and security policy agenda where Australian and EU interests are aligned. The Agreement was signed on 7 August 2017 and entered into force (on a provisional basis pending ratification by all EU member states) on 4 October 2018. Two meetings have been held of the Joint Committee that was established by the Framework Agreement to take forward a program of dialogue and cooperation. The first meeting was on 13 November in Canberra, and the second took place on 24 June 2019 in Brussels. The statements released after these meetings can be viewed at: https://dfat.gov.au/news/media/Pages/media.aspx




Development
On 6 February 2019 the EU and Australia discussed stepping up their joint efforts in a number of development areas during their latest Development Dialogue in Brussels. This was the third Development Dialogue and represents the high priority for both sides of holding regular exchanges in this area. We confirmed our commitment to the rules-based order and explored opportunities for working together in the Indo-Pacific and through our respective approaches to infrastructure financing and connectivity. The next dialogue will be held in Australia by 2020.